About the brand
Warranty Period
12 Months
Select showroom to pickup
Enter store location
Pickup
2 Hour Collection Available at
---
LG 674L Inverter Refrigerator - Platinum Silver
Regular Price $ 3,073 Special Price $ 2,796
---
Seals in Farm Freshness Longer
LinearCooling™ reduces temperature fluctuations, locking in the flavor of fresh for up to 7 days.
DoorCooling+™
Delivers Freshness Evenly & Faster
Drinks are colder and food stays fresher with the even and faster performance of DoorCooling+™.
Enhance Your Décor with an UltraSleek Door
The UltraSleek Door instantly enhances the décor of any kitchen.
Store More with More Interior Space
Enjoy plenty of room to store all your food and beverages that doesn't crowd your kitchen.
Simple Control with Voice Assistant
Tell your refrigerator exactly what you need, when you need it. Say, "Turn on Express Freeze" and the AI speaker will listen and make sure your groceries are taken care of.
Connect and Control from Anywhere
The LG ThinQ™ app allows you to easily connect with your refrigerator in a way you never could before. Turn on 'Express Freeze' with just the tap of a button.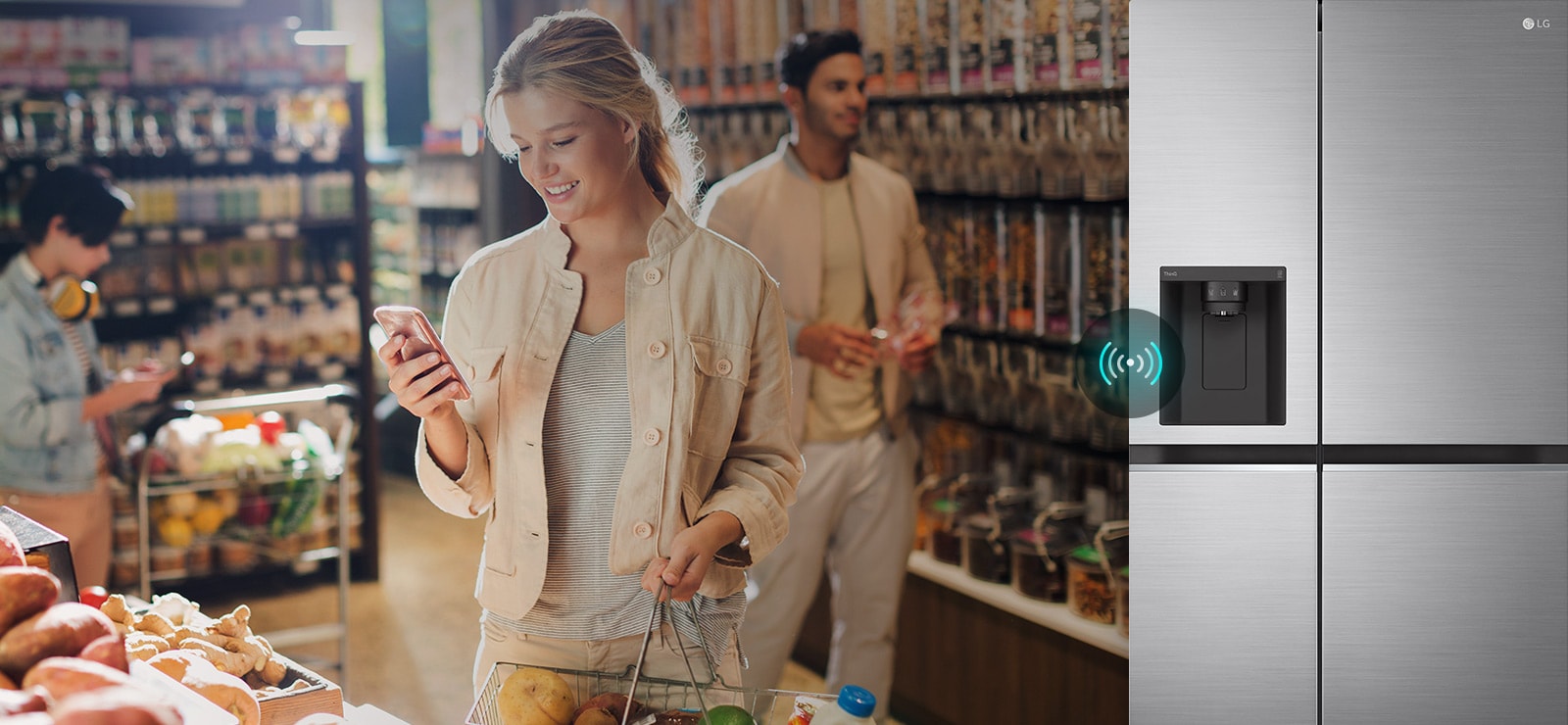 **Slight variations may occur between the actual product and the displayed product due to various reasons.**
| | | |
| --- | --- | --- |
| SUMMARY | CAPACITY | 617 |
|   | DIMENSION (W X H X D) | 913 x 1790 x 735 |
|   | KEY USP1 | Inverter Compressor |
|   | KEY USP2 | Water Dispenser(Non-Plumbing) |
| TYPE | TYPE | Side-by-Side Refrigerator |
| BASIC | Net Storage (Freezer) | 205 |
|   | Net Storage (Refrigerator) | 412 |
|   | Net Storage (total) | 617 |
|   | Gross Storage (Freezer) | 250 |
|   | Gross Storage (Refrigerator) | 424 |
|   | Gross Storage (total) | 674 |
|   | Finish (Door) | PZ |
| GENERAL FEATURES | Handle Type - Material | Plastic |
|   | Handle Type-Contour/Flat Door | Flat |
|   | Handle Type - Type (Name of handles and Easy open) | Pocket |
|   | Display | LED88 |
|   | Temp. Control-Express Freeze | Yes |
|   | Temp. Control-Child Lock | Yes |
|   | Temp. Control-Door Alarm | Yes |
|   | Temp. function - Door Cooling | Yes |
|   | Temp. function - Express Cool | Yes |
|   | Door Cooling | Yes |
|   | Multi-Air Flow | Yes |
|   | Cooling System | No Frost |
|   | WIFI | Yes |
|   | Smart DiagnosisTM | Yes |
|   | Sound Power(dB) | 36(C) |
|   | Energy Class | 2tick |
|   | Energy Consumption (kWh/year)-(New Reg / Old Reg) | 639kwh |
|   | Refrigerant | R600a-60g |
|   | Refrigerant - Inverter Compressor | BMH130NCMV |
|   | Plumbing | N/Plumbing |
|   | Dispenser - Water Dispenser | Yes |
|   | Dispenser - Ice Dispenser(Cube Ice) | Yes |
|   | Dispenser - Crushed Ice Function | Yes |
|   | Bio Shield (gasket) | Yes |
| REFRIGERATOR | Lamp | LED(1) |
| COMPARTMENT | Shelf-Tempered glass | Yes |
|   | Door basket-Transparent | Yes |
|   | Metallic Decoration-Shelf | White |
|   | Metallic Decoration-Drawer | White |
|   | Veg Box Cover T/V R/U-Tempered Glass | Yes |
|   | Veg Box Cover T/V R/L-Tempered Glass | Yes |
|   | Vegetable Box (Drawer)-One | Yes |
|   | Deodorizer | Yes |
|   | Egg Bank | Yes |
| FREEZER | Lamp | LED(1) |
| COMPARTMENT | Ice Maker - Automatic - Indoor | Yes |
|   | Metallic Decoration-Shelf | White |
|   | Metallic Decoration-Drawer | White |
|   | Door Basket-Transparent | Yes |
|   | Shelf-Tempered glass | Yes |
|   | Drawer Box Cover T/V F/U-Tempered Glass | Yes |
|   | Drawer Box Cover T/V F/L-Tempered Glass | Yes |
|   | Drawer-Transparent | Yes |